Wine in the Czech Republic? I always check out the local wine scene when traveling for work. I was attending an international conference in Prague. I brought along my significant other, hoping for a wine adventure.
The people of the Czech Republic are known for being the largest consumers of beer in the world. At first, I wasn't very hopeful that I would find a wine region to explore.  I was surprised and very pleased to learn there are, in fact, two wine regions in the Czech Republic with over 850 registered wineries.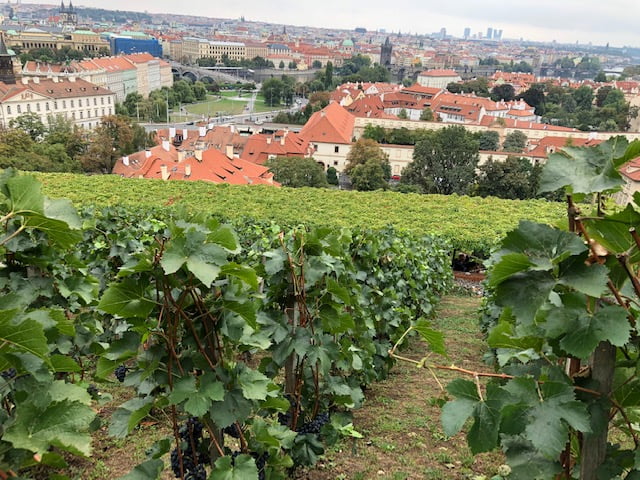 History of Czech Wines
Winemaking in the Czech Republic dates back about 2000 years; the first vine growers were Celts. Modern environmentally-friendly techniques are used to make 34 varieties of white wine and 26 varieties of red wine these days.
The vast majority of vineyards (96%) are located in Moravia (Morava in Czech), which has four sub-regions. The remaining 4% can be found within two sub-regions in Bohemia (Čechy), the home to Prague. The most widely planted grapes in the Czech Republic are Grüner Veltliner, Müller Thurgau, Riesling, and Welsch-Riesling (whites), and Saint Laurent and Blaufränkisch (reds).
My significant other and I wanted the full Czech wine experience, which definitely meant a trip to Moravia. Our accommodating travel agent booked us a two-day private tour to follow the conference—posts about this awesome adventure to follow.
Prague Castle
Before traveling to Moravia, we toured around Prague and were amazed to find vineyards within the iconic Prague Castle complex. We learned this is the Vineyard of St. Vaclav, located on the eastern edge of the castle. The grapes have been there since 2008, and most are of the Pinot Noir and Riesling varieties.
Italy in Prague
We happened to be in Prague the weekend of Prosecco Fest, a celebration of the Italian sparkling wine at Prague Castle. How often do you get to attend a wine event in another country? So we braved the festival despite the threat of rain, and we were lucky that the gray skies never did open up.
This was such an amazing setting for a tasting – sitting in front of grape vines, overlooking a beautiful city (view is below) – and by far one of the most unique places I have sipped wine. I just tried to drink it all in…