Core Wine Course (L2 & L3 Spring Semester)
Sunday, April 30
from
1:30 pm
to
6:00 pm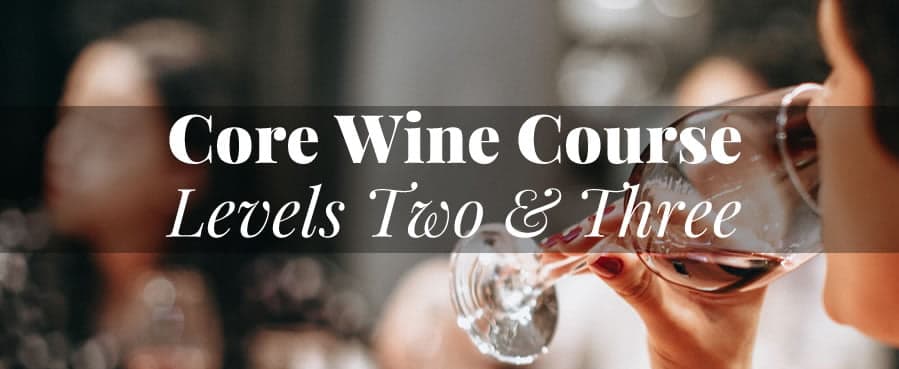 Become a Member of the Wine School and Save on Tuition. Only $18/month and FREE after six months!
Sundays, April 30th to June 25th, from 1:30 – 6:00 pm. There will be no class on Mother's Day.
Earn a complete wine education in a single semester. The Core Wine Course combines our Foundation and Intermediate programs into a unified wine education experience. Plus, the Core Wine Course will save you a sizable amount of tuition. Individually, the Foundation and Intermediate programs cost hundreds of dollars more.
Develop the skills to work in the wine trade and earn your sommelier pin. The Core Wine Course is accredited by the National Wine School and offers a holistic approach to wine education.
Earn Your Sommelier Pin from the National Wine School
The National Wine School is the fastest-growing wine certification agency in the United States, and only the top wine schools and colleges in the country can offer their programs. The programs are intuitive, in-depth, and designed for students seeking the best possible wine education. Academics, critics, and students all agree: there is no better sommelier certification program available.
In the Foundation portion of the program, students will learn the techniques and master the knowledge needed to become extraordinary wine tasters. Graduates are able to identify major wine varietals in a blind tasting: a significant feat for any wine professional.
In the Intermediate section, students learn about the intricacies of the ever-expanding world of wine. The program includes the chance to master the wine styles, climates, and varietals of all the major wine-producing countries.
Free Access to National Wine School (NWS) Content
As our student, you get free access to the NWS online programming, which is well-produced and years ahead of all other virtual sommelier certifications.
The Wine School of Philadelphia
Philadelphia's Wine School is the largest and most successful wine school in the United States. Since 2001, generations of successful winemakers, sommeliers, and wine professionals have studied in our classrooms. Our students are diverse, creative, and engaged in the world: they have changed the face of the wine trade.
Who Attends the Core Program
The Core Wine Course is the ultimate program for aspiring somms, winemakers, or wine enthusiasts. It includes sections on viniculture and viticulture, Old World and New World wines, blind tasting, and sensory training. For those in the restaurant trades, our program is compatible with all sommelier qualifications. This is also an essential program for aspiring winemakers. Over half of our students are wine enthusiasts seeking knowledge, adventure, and possibly a second career.
Schedule of Core Wine Classes
Week One
Section #1 Introduction to Wine Regions
Section #2 Intro to Sensory Wine Tasting
Week Two
Section #1 France
Section #2 White Varietal Components
Week Three
Section #1 North American Wines
Section #2 Red Varietal Components
Week Four
Section #1 Australia, New Zealand & South Africa
Section #2 Old World vs New World
Week Five
Section #1 Italy
Section #2 Varietal Fingerprint Lab
Week Six
Section #1 Spain
Section #2 Winemaking Process
Week Seven
Section #1 Chile & Argentina
Section #2 Blind Tasting Class
Week Eight
Section #1 Regional In-Class Exam
Section #2 Tasting In-Class Exam